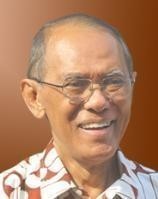 Bambang Ismawan
Bina Swadaya has been involved in the formation and growth of Bina Swadaya for the past 50 years, and has developed a proven track record of successful partnerships with government, NGOs and businesses. His philosophy of promoting self-reliance within Bina Swadaya's self-help groups drives the strategic development of the organization. He invests a large portion of his time on developing the leadership capabilities of the organization. Bambang holds an economics degree from Gadjah Mada University.
Visit their website

Model

Hybrid Social Enterprise

Sectors

Education, Skills and Learning; Sustainable Development; Agriculture, Food and Beverage

Headquarters

Indonesia

Areas of Impact

ASEAN, Indonesia
Bina Swadaya
For decades Bina Swadaya has focused on the socio-economic development of Indonesia's rural poor and their communities by directly empowering them through education and training. To address the strong demand for agricultural education and knowledge dissemination, Bina Swadaya formed a publishing business and started Trubus, an agricultural magazine that is currently a market leader on the subject. Building on the success of this publication, Bina Swadaya then leveraged its printing infrastructure to enter into other diverse publication segments, such as gardening, health issues, language, education, lifestyle, children, religion, and vocational and small business skills. To date it has published approximately 1,500 agricultural book titles and 2,300 titles in other areas.

In addition to generating profits from the sale of its own publications, Bina Swadaya has developed significant expertise in the field of publishing, while at the same time offering leading consulting services. In 2001 the organization started a franchise operation for agricultural shops, providing market access for the Bina Swadaya group's products. Bina Swadaya already has and manages 23 shops and 54 outlets. It also offers microfinancing through two rural banks and cooperatives.

Bina Swadaya literally translates into the self-reliance development foundation. To fulfil its mission, Bina Swadaya focuses its activities on the following areas: community empowerment, microfinance development, agribusiness development, magazine and book publishing, printing services, alternative tourism development, and meeting and workshop facilities for self-help groups. Each Bina Swadaya business operation is profitable. Overall, 25% of the profits generated from these operations are re-invested back into the Civil Society Empowerment operation, which funds the expansion of Bina Swadaya's work throughout Indonesia.
awardees
Our awardees
Muhammad Amjad Saqib
Founder, Executive Director, Akhuwat
Cybele Amado de Oliveira
Executive Director and President, Instituto Chapada de Educação e Pesquisa (ICEP)
Mel Young
President, Homeless World Cup