Meagan Fallone
Entrepreneur in Residence and Director of Climate Justice, CARE.
Former CEO Barefoot College and Barefoot College International(BCI). Current Bindi International (Formerly, Barefoot College International) Board Director and Founder of Step Up Advisers, Ltd. Social Entrepreneur, Corporate Social Intrapreneur & strategist. Working in agri livelihoods, financial inclusion, environmental stewardship, renewable energy and digital technology integration. Led a tripling of size of the Barefoot College to 93 countries. Established 5 Barefoot Women's Vocational Training Colleges in sub-Saharan Africa, 1 in the Pacific Islands and commenced planning for 1 in Latin America. Worked extensively to develop the women's rural entrepreneur and Agri Livelihood programs through digital integration. Designed and Developed an award-winning digital Learning Management System & content driven commerce engine for smallholder farmers with a systems approach for Innoterra Ag a Swiss/Indian Agri Food technology Platform. Worked to develop on ESG and Climate strategy across for and not for profit organisations. Work is recognized globally with Governments, Private Sector and Multilateral partners. Meagan has been distinguished with the 2018 Hillary Laureate Award for mid-career global leadership on poverty, climate change, social justice and peace; the 2019 Mother Theresa Award for Social Justice and together with her Barefoot College International team, the Wise Award for Education Innovation.
Visit their website

Contact via

Model

Hybrid Social Enterprise

Sectors

Sustainable Development; Education, Skills and Learning; Gender Inequality

Headquarters

India

Areas of Impact

South Asia, Africa, Latin America, Afghanistan, Bhutan, Bolivia, India
Barefoot College
Barefoot College demonstrates that illiteracy is not a barrier to poor communities developing themselves and that the most sophisticated technologies can be disseminated by poor rural men and women who can barely read and write. As such, thousands of people are trained each year to be teachers, doctors, midwives, dentists, health workers, solar engineers, water drillers and testers, hand pump mechanics, architects, artisans, designers, masons, communicators, computer programmers, and accountants.

The Barefoot campus itself is a testament to the quality of its training programmes. Barefoot-educated architects and masons constructed most of the campus out of low-cost materials and it is the only fully solar-powered college in India.

Barefoot engineers have also helped electrify 35,000 houses with solar energy in 1,000 villages in 37 countries, saving 4.6 million litres of kerosene from polluting the environment. Since 1986, Barefoot engineers have helped collect rainwater in 901 schools in remote villages in India as well as Afghanistan, Ethiopia, Mauritania, Senegal, The Gambia, Sierra Leone and Mali, providing water for drinking and sanitation to 2.65 million rural children. In addition, 1,513 rainwater harvesting structures have been built in rural schools and community centres with a total capacity of 96.65 million litres of water every year.
awardees
Our awardees
Ashok Khosla
Chairman, Development Alternatives
Martha "Pati" Ruiz Corzo
Founder and Director, Grupo Ecológico Sierra Gorda IAP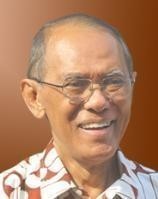 Bambang Ismawan
Founding Chair, Bina Swadaya