Shona McDonald
Leveraging predictive data analytics Shona McDonald's work drives a broad ecosystems change approach to celebrating diversity and strengthening and health, education, social development, appropriate product design and manufacturing processes needed to build and deliver on a more inclusive and equitable society for the 1 billion people in the world who have a disability.
A sculptor until her second daughter acquired severe injuries at birth when the negative attitudes towards disability from friends, family, and the medical profession inspired her to create effective mobility and accessible health care solutions which are changing perceptions and the landscape of disability inclusion across the region.
As a self-taught entrepreneur, she uses a company, an advocacy trust and a non-profit organization which work systemically to influence disability policy and practice, advocating for rights and strengthening referral pathways and support services for people with disabilities across Southern Africa. Social entrepreneur and business woman, she is an Endeavor Entrepreneur, Ashoka Fellow, RESNA Fellow and past contributor to the WHO Guidelines and training programs supporting the Provision of Manual Wheelchairs in less-resourced settings.
Visit their website

Contact via

Model

Hybrid Social Enterprise

Sectors

Sustainable Development; Education, Skills and Learning

Headquarters

South Africa

Areas of Impact

Africa, Eswatini, South Africa, Zimbabwe, Uganda, Botswana, Namibia, Lesotho
Shonaquip
Shonaquip offers an innovative approach in addressing the unique mobility needs of wheelchair users. It offers devices that fit the unique needs of the individuals and provides support services and training for wheelchair users and their caregivers, family members and healthcare workers.

Shonaquip provides community-based clinical services and training workshops on proper wheelchair fitting and the importance of postural support to therapists and associated professionals across South Africa's nine provinces, Zimbabwe, Botswana, Lesotho, Swaziland and Namibia. Through partnerships with governments, civil society, universities and the private sector, Shonaquip plays a leading role in improving the quality of life for people with mobility disabilities, in particular children, through enhanced services and the provision of customized, environmentally appropriate equipment. For example, its Madiba Buggy (in honour of Nelson Mandela's traditional name) was the first South African posture support wheelchair for children affected by cerebral palsy. It can be used on uneven terrain such as sand, rocks and hilly areas, and is now being redesigned to be more cost efficient and exportable.

Some 60% of Shonaquip's income is generated from government business, with 25% coming from private clients and medical insurers, and 15% from humanitarian agencies and NGOs. It works closely with government, civil society and the private sector to improve the lives of children with mobility disabilities. Its community-based programmes have a holistic approach and focus on building longstanding capacity for communities to sustain inclusive societies. It partners with communities to deliver training, community outreach, clinical assessment, fitting and review services. Its capacity building programmes, training and other support services empower children with mobility challenges, their families, caregivers and communities.

It works at all levels, from individuals, care facilities and schools to government hospitals. It supplements these programmes with social work and clinical services. Its award winning, occupational therapy-designed, inclusive early childhood development (ECD) skills training programme is often the initial introduction to its work and is globally unique in combining both occupational therapy and ECD insights appropriate for caregivers in low-resource communities. In addition to community-based training and advocacy, it partners with governments to develop referral pathways for families.
awardees
Our awardees
Renat Heuberger
Chief Executive Officer and Co-Founder, South Pole
Sanjit (Bunker) Roy
Founder and Director, Barefoot College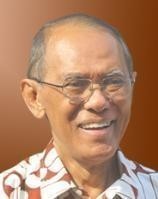 Bambang Ismawan
Founding Chair, Bina Swadaya