Suzana Padua
Suzana M. Padua is a Brazilian environmental educator with a doctoral degree from the University of Brasilia and a Master's from the University of Florida. She is the president of IPE - Instituto de Pesquisas Ecológicas (Institute for Ecological Research). She has published widely in many countries and has contributed to several governmental and non-governmental projects related to environmental education and sustainability. Suzana is an Ashoka fellow, an AVINA leader, a Russell E. Train Scholar and a Bacardi Scholar. She has received several awards: Benchmarking Person (2017); Visionaris-UBS (2017); the Wildlife Conservation Award of the Cincinatti Zoo and Botanical Gardens (2017); and Schwab Foundation and Folha de São Paulo Social Entrepreneur, among others. Together with her husband Claudio Padua, they were both featured as Heroes of the Planet by Time magazine in 2002.
Visit their website

Contact via

Model

Hybrid Social Enterprise

Sectors

Sustainable Development

Headquarters

Brazil

Areas of Impact

Latin America, Brazil
Instituto de Pesquisas Ecológicas (IPE)
IPE - Institute for Ecological Research promotes conservation and sustainable development in impoverished communities throughout Brazil. The organization aims to conserve biodiversity while respecting the traditions of local communities living near areas in need of protection.

To achieve its mission, IPE carries out a number of activities, including: biodiversity research; environmental educational programmes; professional training in sustainability; policy advocacy for biodiversity conservation; partnership engagement with companies to improve social and environmental responsibilities; and projects that encourage sustainable alternatives for income generation of communities living near protected areas.

IPE has directly assisted in the conservation planning and sustainable use of millions of hectares in the Amazon and Atlantic Forest regions. A project in western São Paulo state, known as Pontal do Paranapanema, combines environmental protection with the introduction of sustainable agro-forestry techniques to local farmers so that people shift their attitudes and no longer adversely impact the region's biodiversity. As a result of its efforts, IPE has managed to get the black lion tamarin (a small primate species that was once among the 10 most endangered in the world) removed from the list of severely endangered species.

In 1999, IPE founded ESCAS, the School for Environmental Conservation and Sustainability, in Nazaré Paulista in the state of São Paulo. The institution shares knowledge gained from its 26 years of wildlife and conservation research through courses for diverse audiences on themes including conservation biology, conservation medicine, wildlife management, sustainable development, environmental education, environmental law, the history of ecology, and business related to conservation. The centre has a Master's programme accredited by the Brazilian Ministry of Education, with support from Brazilian companies including Natura, Fibria and Veracel, and the Arapyau Institute. It also has an MBA on the management of socio-environmental businesses. In the Amazon region, IPE is developing a protected areas project focused on the conservation management of 84 protected areas with a total of 80 million hectares in partnership with federal agency ICMBio and with the support of The Gordon and Betty Moore Foundation.
awardees
Our awardees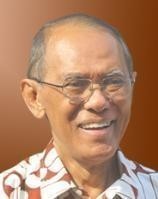 Bambang Ismawan
Chairman, Bina Swadaya
Masa Kogure
Executive Director, TABLE FOR TWO International
Dener J. Giovanini
Founder and General Coordinator, Renctas