Tulin Akin
Tülin Akin, Co-Founder of Tabit, founded tarimsalpazarlama.com which is Turkey's first communication, e-learning and e-commerce site in the agricultural area for farmers, product suppliers and companies. She visited 12,000 villages in order to familiarise farmers with computer and mobile technologies and developed an SMS modelling that aims to improve agricultural yield and profits by providing farmers with advice on crops, weather and market prices. Akin also designed a farmers' credit card in cooperation with a private bank. She created the idea of the first technology-based smart village in the world which aims to increase the efficiency of production with communication and information technologies and to improve the living standards of rural producers with qualified information by combining traditional agricultural methods with advanced technology. She was awarded as Schwab Foundation Social Entrepreneur of the Year and nominated for the Nobel Prize in the field "Work for Peace". Furthermore, she was chosenas an Ashoka Fellow in 2012.
Visit their website

Contact via

Model

For-profit Social Enterprise

Sectors

Agriculture, Food and Beverage; Türkiye; Sustainable Development; Information Technology

Headquarters

Türkiye

Areas of Impact

Africa, Australasia & Oceania, South Asia, Europe, Eurasia, Ghana, Egypt, India, New Zealand, Kenya, Tanzania
Tabit
Tabit has pioneered an SMS-based solution that is free of charge and accessible via any basic mobile phone. The Tabit team of agricultural engineers use Ministry of Agriculture weather forecasts and supplement forecasts for its users with localized information such as humidity or wind direction, how the weather will affect products, and the types of precautions farmers should take. In addition, the Tabit service constantly alerts farmers to opportunities and promotions such as new grants from the Ministry of Agriculture or better financing opportunities from Turkish agriculture banks.

To promote the service and sign up farmers, Tabit partnered with Vodafone Turkey to send out SMS campaigns to every Vodafone subscriber. As the service has expanded – in 2017, 50% of Turkey's 3 million rural farmers receive Tabit's mobile-based services – it has also segmented its customer base and expanded across multiple channels. While the basic service is free of charge, premium subscribers pay a modest fee of $0.50 per month for more personalized market data. The premium service reaches 260,000 paying subscribers. In addition, Vodafone has designed a farmers-specific mobile contract, promotes the service with TV advertisements and social media campaigns. Tabit is responding to the growth opportunity presented by smartphones by developing a mobile app, which already has 60,000 users.

In order to make not only information but modern farming technology and practices available to rural farmers, Tabit has developed the SmartVillage; agricultural technology provided by larger companies is often not compatible with small scale farming, therefore Tabit has partnered with agri-tech companies to adapt their technology, such as humidity sensors or watering systems, directly to SmartVillages. This provides rural farmers with new more efficient technology whilst providing agricultural companies a testing ground for new products with small scale farmers, an otherwise untapped income stream and a CSR marketing opportunity. The Tabit model has proven scalable across Turkey and is now being replicated by Vodafone in other markets in which they operate. The Tabit mobile information service is now available in six countries in Africa and Asia including Tanzania, Ghana, Kenya, Egypt, India and New Zealand, reaching three million farmers.
awardees
Our awardees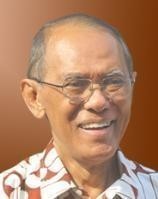 Bambang Ismawan
Chairman, Bina Swadaya
Christie Peacock
Founder and Chairman, Sidai Africa
Takao Furuno
Organic Farmer, Duck Revolution